March 3 is Hina Matsuri (Doll Festival or Girls' Festival) in Japan, when people pray for the happiness and healthy growth of girls.
The family who has daughters place the doll set for this festival.
Platforms covered with a red carpet are used to display a set of ornamental dolls (雛人形, hina-ningyō) representing the Emperor, Empress, attendants, and musicians in traditional court dress of the Heian period.  (from Wikipedia http://en.wikipedia.org/wiki/Hinamatsuri)
I made these dolls for my son's class (year 1) and I will show the kids how to make Japanese dolls next week.  I thought that it would be a good post for people who are interested in Japanese culture.
You can download the template and try to make ones.
>>Download Japanese Doll Template (Note: Sorry, but  it is not the best resolution)
It is hard to buy the Chiyogami (Japanese paper with patterns) here in Australia, so I used the patterns from the book called "Kyochiyogami to Wa no Monyo Selection" (ISBN978-4-8843-2522-2 by Impress Japan Corporation.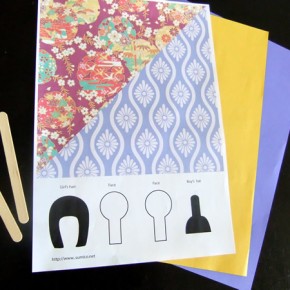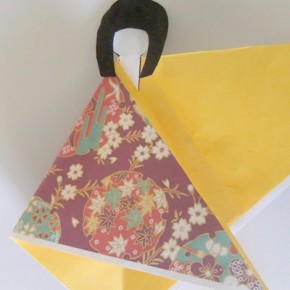 Sumico Net Blog: Art With Kids Category >>
Sumico Net Graphic Design and Web Design Home page >>
Sumico Net New Blog >>
Read another popular kids activity -Marbling with Shaving Cream